In the Fine Arts Digital Lab, we have the equipment and facilities that allows the students to accomplish almost any digital project they may want to create. Our facilities include Mac and Windows computer stations with the latest creative software, a digital photography and video studio, as well as top-of-the-line printers. Our equipment library allows students to rent out equipment ranging from DSLR photo and video cameras, to image projectors to microphones & speakers.
Featured Equipment
Wide dynamic range for shooting true digital film.
Combined with precision PL, EF and MFT mount optics and high quality RAW and ProRes file recording, The Blackmagic Design Cinema Camera is capable of recording 12-bit CinemaDNG RAW files at full 4K resolution.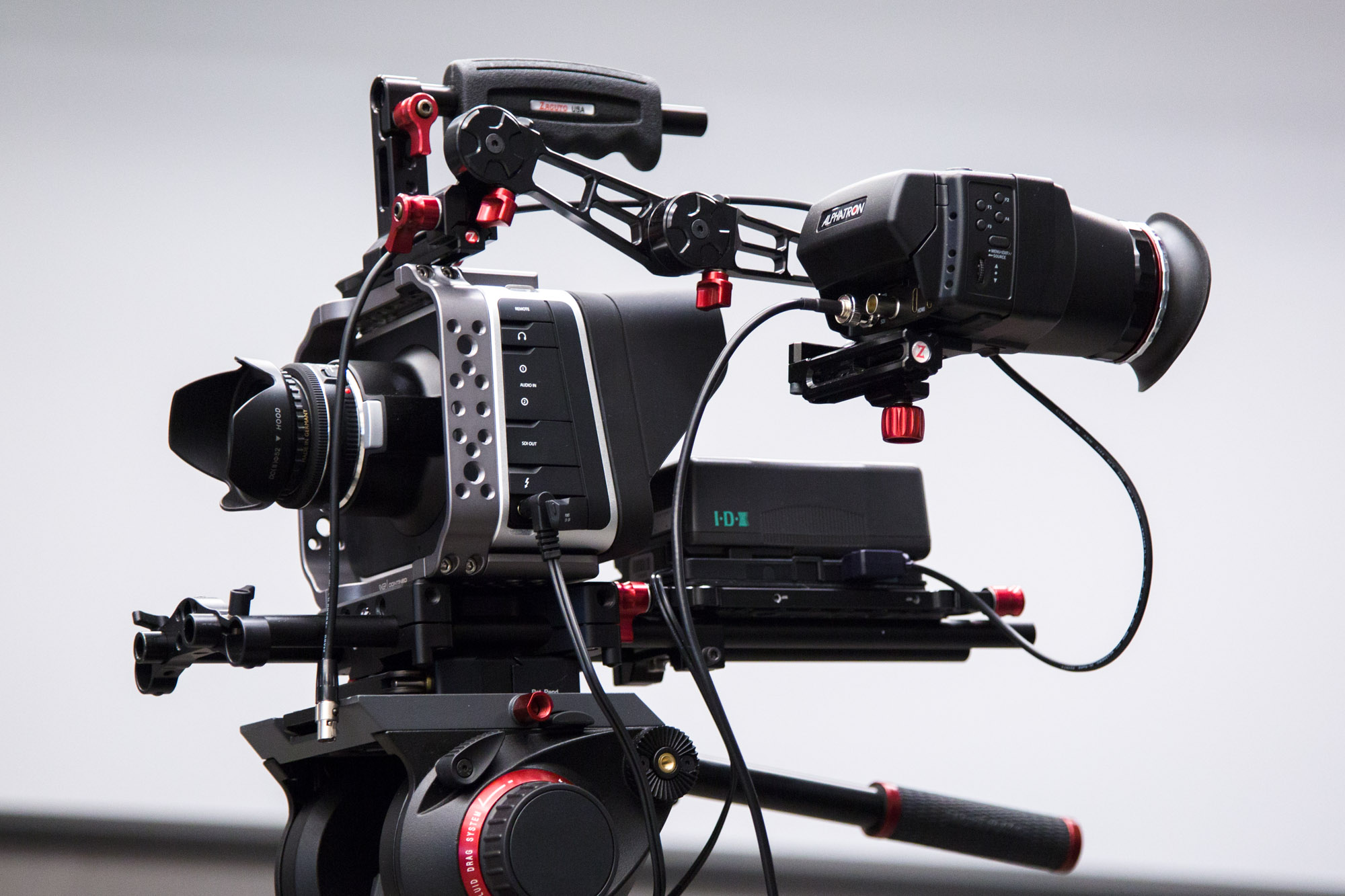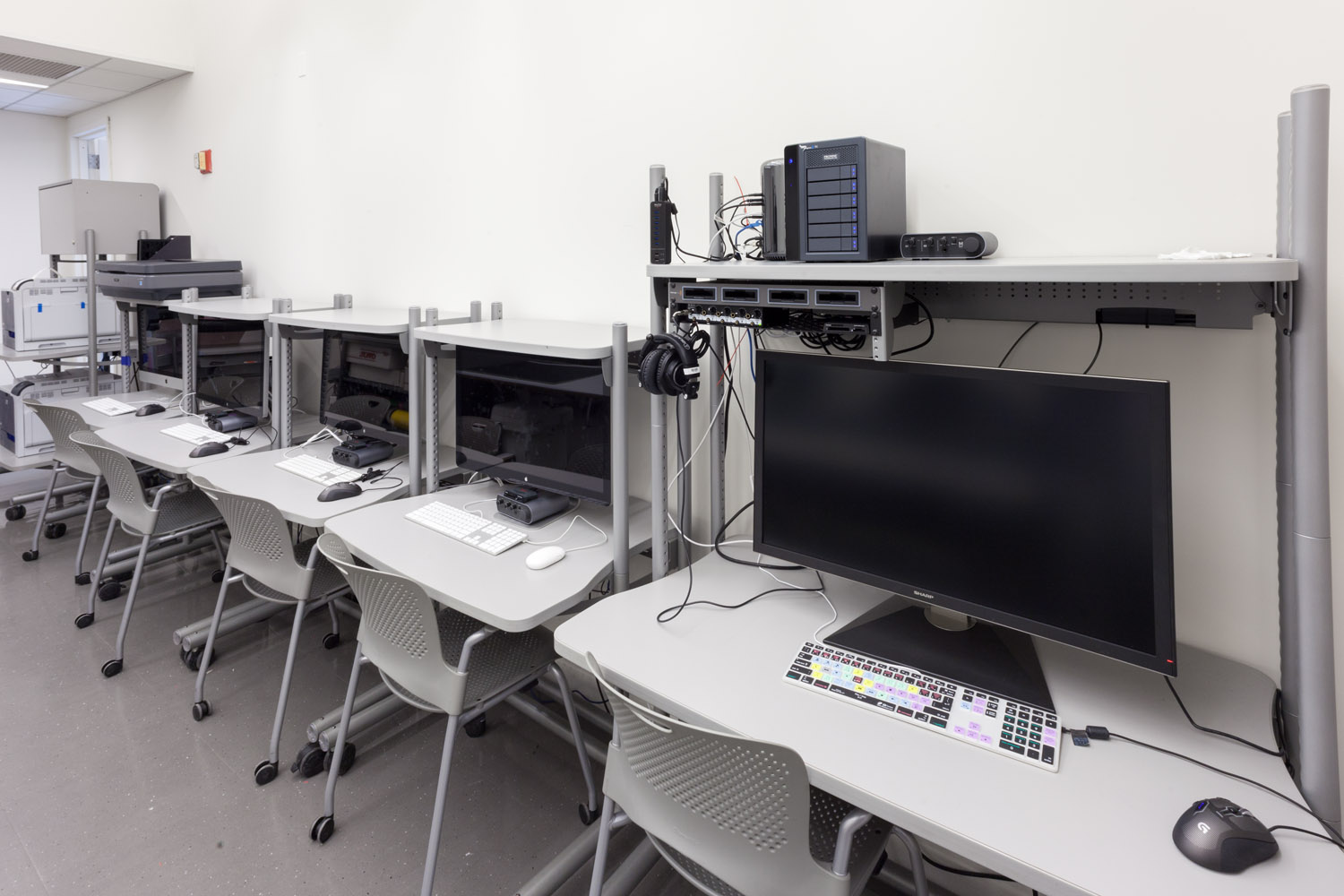 Featured Equipment
4K Editing Station
The dedicated High Definition 4k Video Station includes Blackmagic Design: DaVinci Resolve as well as other professional video  software used for editing, compositing, and color correction.
Photography, Video & New Media Equipment
Computer Work Stations
Mac OS X Computers
30 27" iMac workstations
4 Mac Pro workstations
1 4K video editing workstation
Sharp 4K monitor
Pegasus R8 RAID storage
BlackMagic MultiDock
5 MacBook Pro laptops
Mac OS X Software
Final Cut Pro X
Logic Pro X
Adobe Creative Cloud Master Collection
Adobe Lightroom
Max (Cycling 74)
Processing
Arduino
Modo
Microsoft Office for Mac 2011
DaVinci Resolve
Windows Hardware
8 BOXX workstations
Windows Software
Solidworks
Adobe Creative Cloud Master Collection
Modo
Rhinoceros
Microsoft Office
123DMake
ZBrush
Digital Imaging Equipment
Printers
2x Epson Stylus Pro 4900 – 12 inkjet cartridges
Epson Stylus Pro 7900 – 12 inkjet cartridges
Epson Stylus Pro 9900 – 12 inkjet cartridges
Color Management/View Stations
Scanners
Epson Perfection 11000XL flatbed scanners
Epson scanner
Cameras
2x Canon 5DSR
3 Canon 5D Mark iii
35 Canon 70D
2 Canon XA10
1 BlackMagic 4K
Lenses
Multiple Canon EF / USM lenses. Macro, tilt and other specialized types.
Lighting
Continuous Lighting – 4 Arri kits
Strobe Studio Lighting
3 Canon Speedlight 530EXii
4 Profoto Acute B
Digital Capture Studio
Audio Equipment
Sound Recorders
Marantz
Shure
Microphones
Shure
Speakers
Electronics
Electronics workbench with a library of components
Rigol DS1102E Digital Oscilliscope
Weller soldering irons
Multimeters
Bench power supplies from ProTek and BK Precision
Saleae Logic Analyzer
Hand tools
CNC/Digital Sculpture
3D Printers
Zprinter 450
Dimension sst1200es
FormLabs Form1+
Laser Cutters
Epilog Laser Helix 60
Universal Laser PLS6.150D
CNC
Shopbot Full Size 96×48
Tormach CNC 1100
Techno Plasma Cutter
3D scanners
Faro Arm
Roland LPX-60
FlexScan3D
Featured Equipment
Archival-quality, large-format printers.
Designed for professional proofing and photographic applications, the Epson Professional printers incorporate the latest imaging technologies to produce extraordinary prints in a wide range of materials.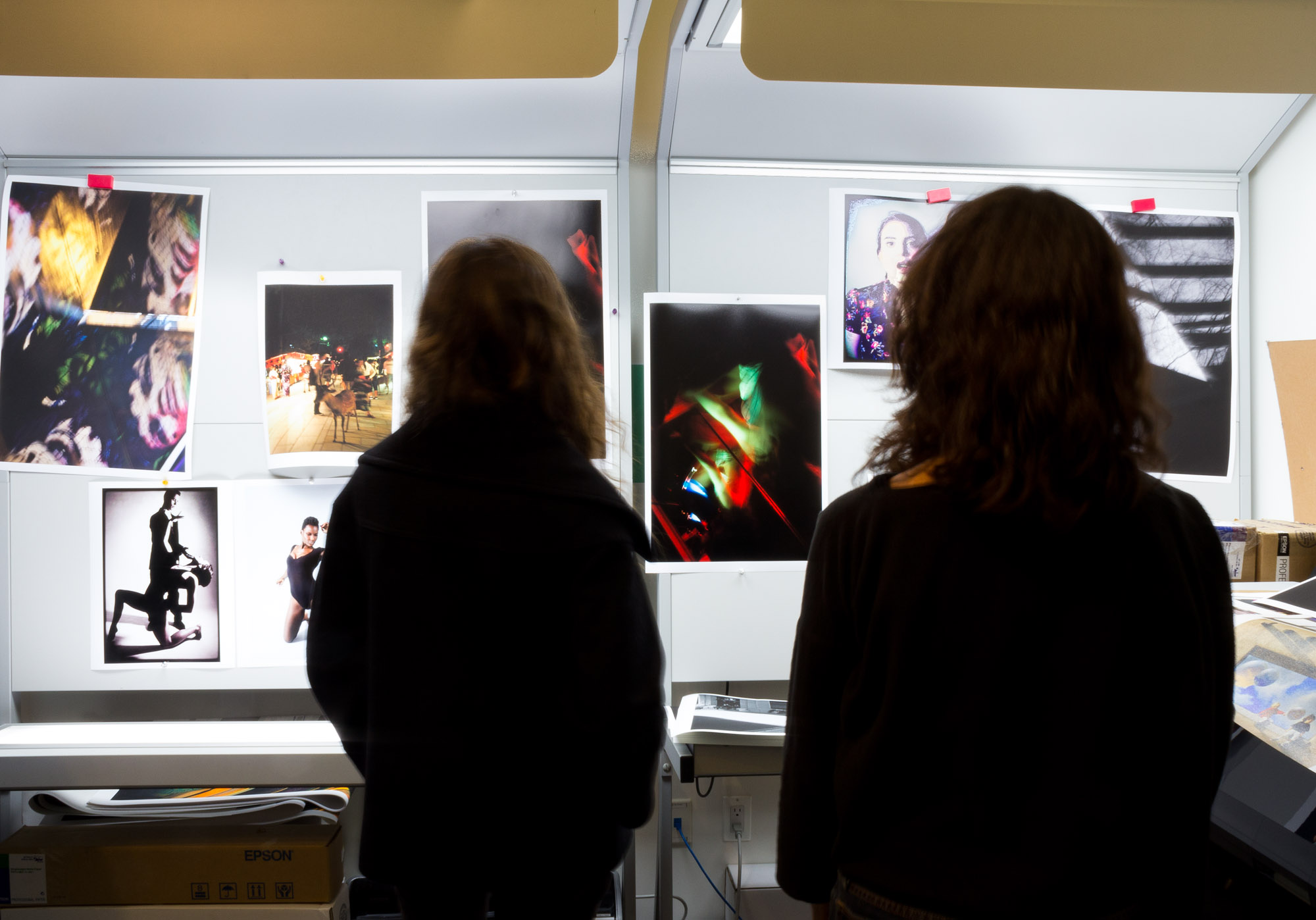 Featured Equipment
VPI Vertical Print Inspector
The Vertical Print Inspector is a D50 viewing station that is designed for the visual inspection of large format prints in a convenient vertical and horizontal format. When using the VPI students can stand at a comfortable distance and visually compare the entire image with a color monitor, transparency or reference print. The color viewing station is illuminated from above and below with Graphiclite 100 Color Viewing Lamp compliant with the ISO 3664:2009 standard. The Vertical Print Inspector becomes the preferred display for classroom critiques.
Print Output Room
Our Print Output Room is both in-house BFA print service store and classroom. Students experiment with digital printing in various size formats, medias in sheet and roll paper up to 44" in width. Our staff works with the student body to ensure color print quality by soft proofing their images as done in professional print studios.
This hand-on approach of the Print Room becomes an opportunity for all BFA students to learn the color management process in digital printing.
---
---
Back to top