Bringing the technologies of high-end fabrication to SVA, the CNC and 3D Printing facilities at BFA Fine Arts enables our students to employ the newest and most innovative tools in the fabrication industry today. Students engage directly in the workflow, learning the specified software to each tool. From ABS prints to laser engraving, the CNC and 3D Printing facilities are just the beginning towards realizing ambitious projects.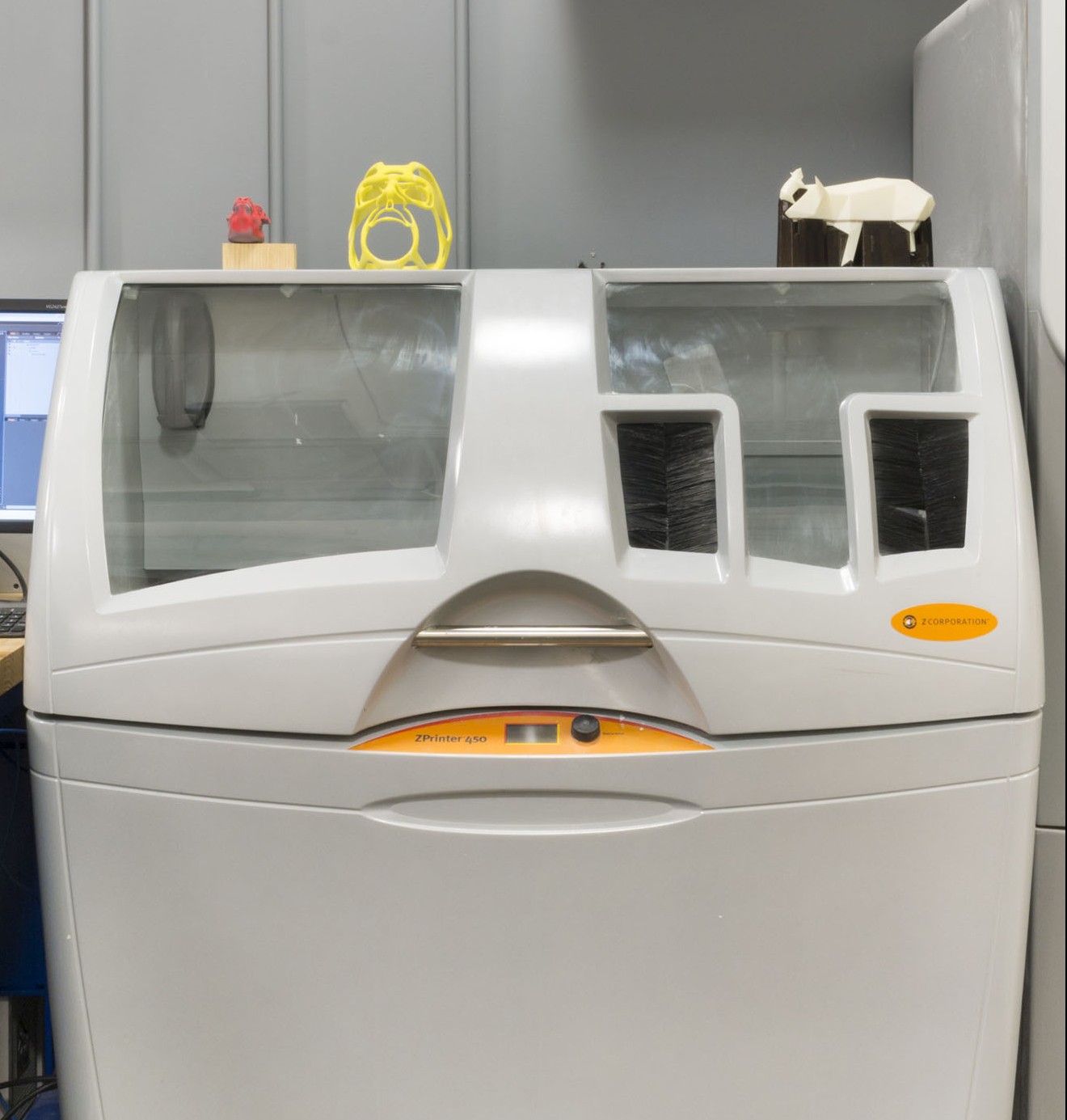 Featured Equipment
ProJet CJP 660Pro
The ProJet CJP 660Pro is the simplest and most efficient large-build, full-color 3D printer of its class. It is fast, accurate, high resolution and uses eco-friendly, non-hazardous materials with zero liquid waste. Ideal for architects, consumer product design and development, education, medical models, stop-motion animation, professional model shops, fine art production and more.
Photorealistic color
The ProJet CJP 660Pro incorporates professional 4-channel CMYK full-color 3D printing capability to produce stunningly beautiful, photo-realistic full spectrum models to better evaluate your design intent in the colors you had specified. Multiple print heads provide the best range of accurate and consistent colors, including gradients.
Featured Equipment
CNC Shopbot Full Size 96x48
Our Shopbot CNC router excels in production of large format work. It can handle a wide variety of materials including wood, plastic, aluminum, foam, cardboard and more. The Shopbot is equipped with a vacuum holddown table, 12 tool changer, dust collection system and drag knife. We can fabricate large 3D sculptures from multiple sheets of wood or foam using our technique of "flip milling".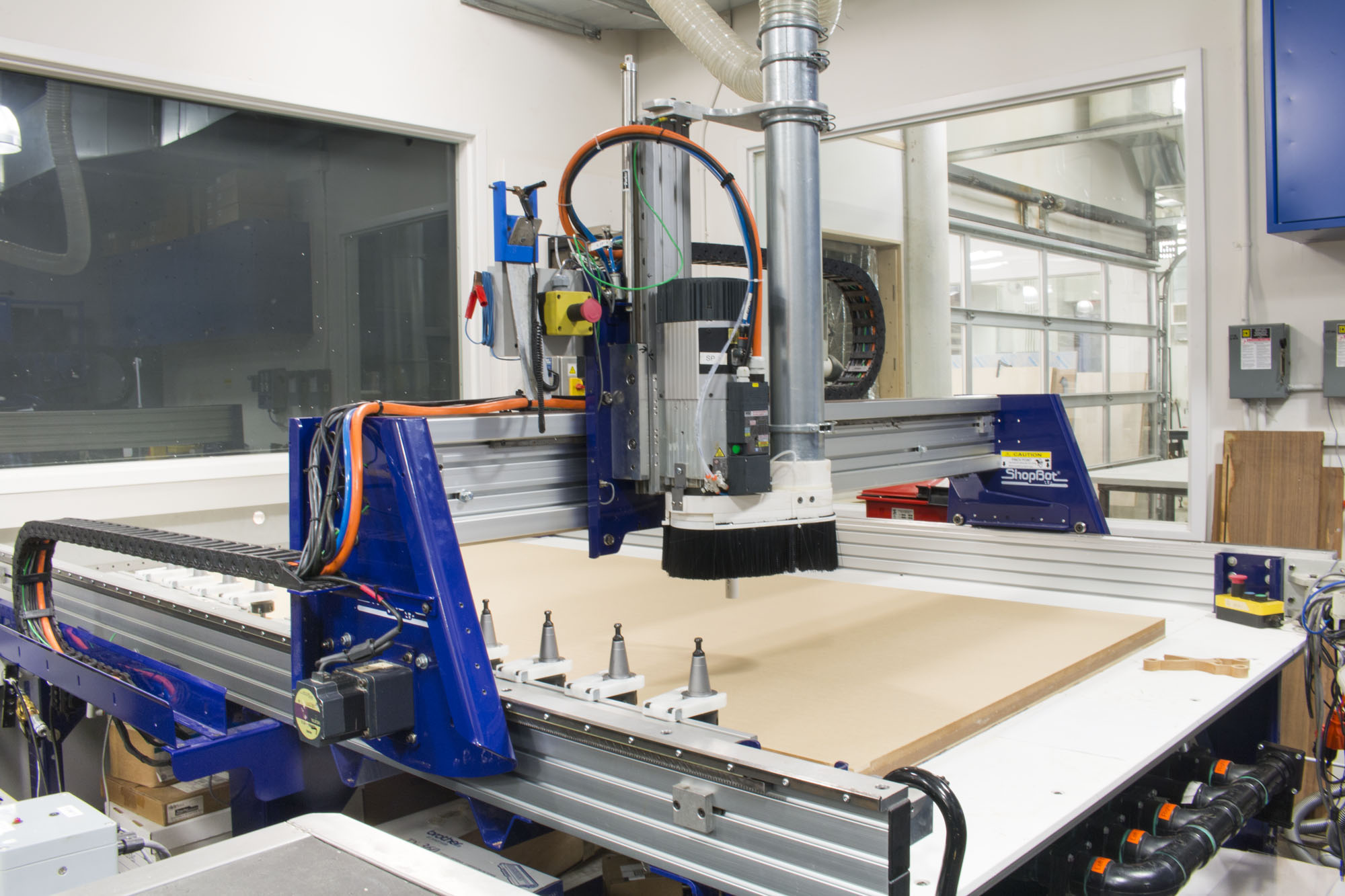 Digital & 3D Printing Equipment
3D Printers
3D Printers
ProJet 660Pro

Dimension sst1200es

FormLabs Form 2

Stratasys F370
3D scanners
Faro Arm
Roland LPX-60

HDI 3D scanner
CNC Machines
 CNC
Shopbot CNC Router

96×48

Tormach PCNC 1100 CNC Milling Machine

Techno Plasma Cutter
Laser Cutters
Epilog Laser Helix 60
Universal Laser PLS6.150D
Apple Computer Work Stations
Mac OS X Hardware
30 27" iMac workstations
4 Mac Pro workstations
1 4K video editing workstationSharp 4K monitor
Pegasus R8 RAID storage
BlackMagic MultiDock
5 MacBook Pro laptops
Mac OS X Software
Final Cut Pro X
Logic Pro X
Adobe Creative Cloud Master Collection
Adobe Lightroom
Max (Cycling 74)
Processing
Arduino
Modo
Microsoft Office for Mac 2011
DaVinci Resolve
PC Computer Work Stations
Windows Hardware
Windows Software
Solidworks

Adobe Creative Cloud Master Collection

Modo

Rhinoceros

Zbrush

Geomagic Warp

Fusion 360

Unity
---
Back to top