From anatomical studies to landscape painting to the biomorphism of Surrealism, the biological realm historically provided a significant resource for numerous artists. More recently, Bio Art has become a term referring to intersecting domains of the biological sciences and their incorporation into the plastic arts.
The Bio Art summer interdisciplinary residency takes place in the new SVA Bio Art Laboratory, located in the heart of New York City's Chelsea gallery district. The SVA Bio Art Lab houses microscopes for photo and video, skeletons and specimen collections, a herbarium and an aquarium as well as a library. Each resident is awarded a private studio space. The residency culminates in a public exhibition.
The Residency is led by artist Suzanne Anker, chair of the SVA BFA Fine Arts Department; and Joseph DeGiorgis, marine biologist. In addition, visiting speakers have included artists, scientists and museum professionals including Kathy High, Ingeborg Reichle, James Walsh, Jennifer Willet, Ellen D. Jorgensen, Oliver Medvedik, William Myers and Paula Hayes.
Art & Science
The SVA Bio Art laboratory was founded in 2011 by Suzanne Anker as part of the SVA's BFA Fine Arts Department new facility consisting of 54,000 square feet in the heart of Chelsea, NYC. Conceived as a place where scientific tools and techniques become tools and techniques in art practice, the Bio Art Lab is the result of many people's expertise, research and sustained effort.
Featured Equipment
BioBots: A high resolution 3D bioprinter that builds functional three dimensional living tissue.
This bioprinter works in a similar way to FDM printers, printing one layer at a time, but with a bevy of hydrogels, such as agarose, collagen, alginate, and polyethylene glycol.  The machine can create living cell tissue or non-living scaffolds, and seems like a phenomenal option for researchers who want to be supported as they begin getting involved with 3D bioprinting.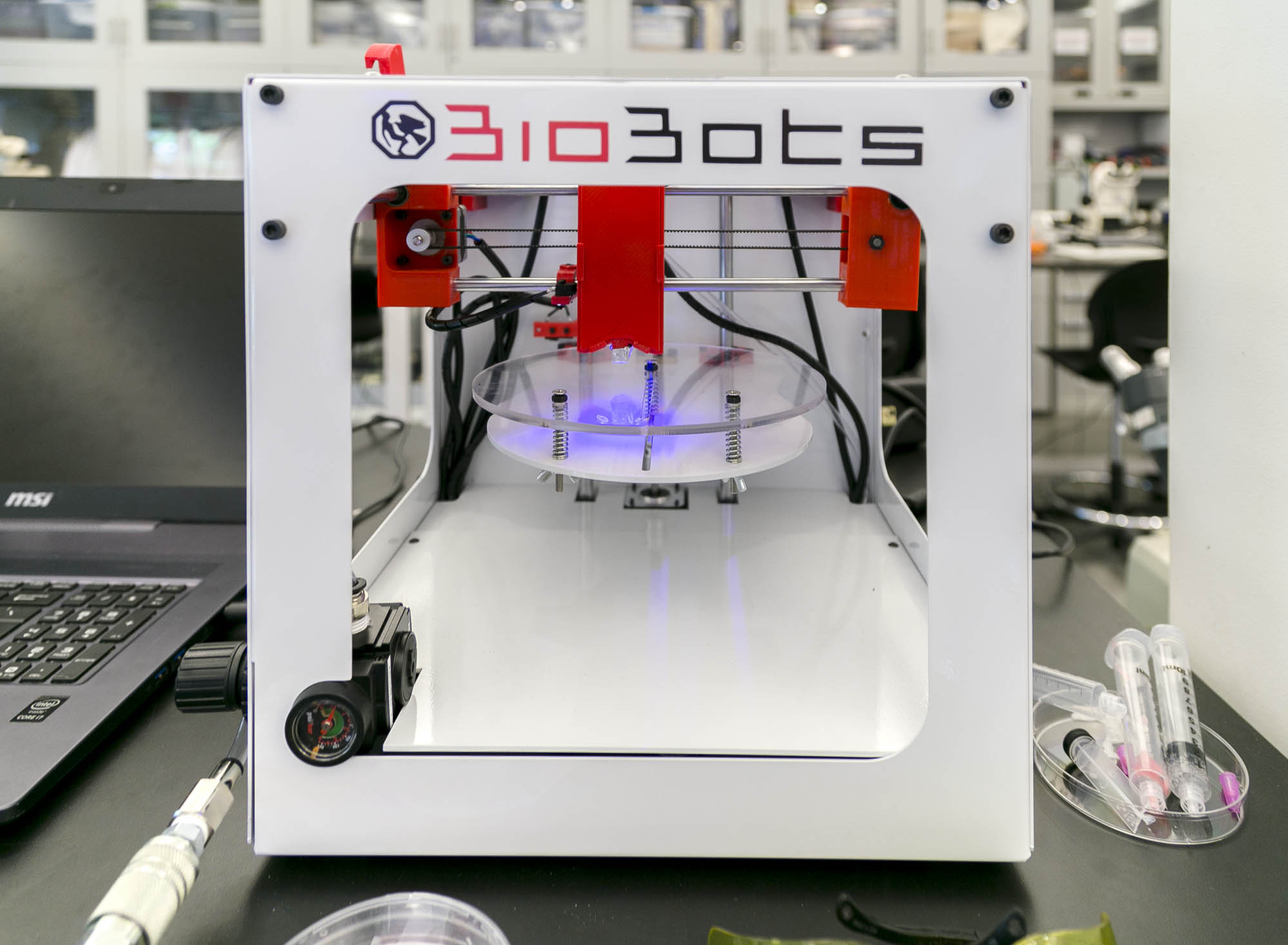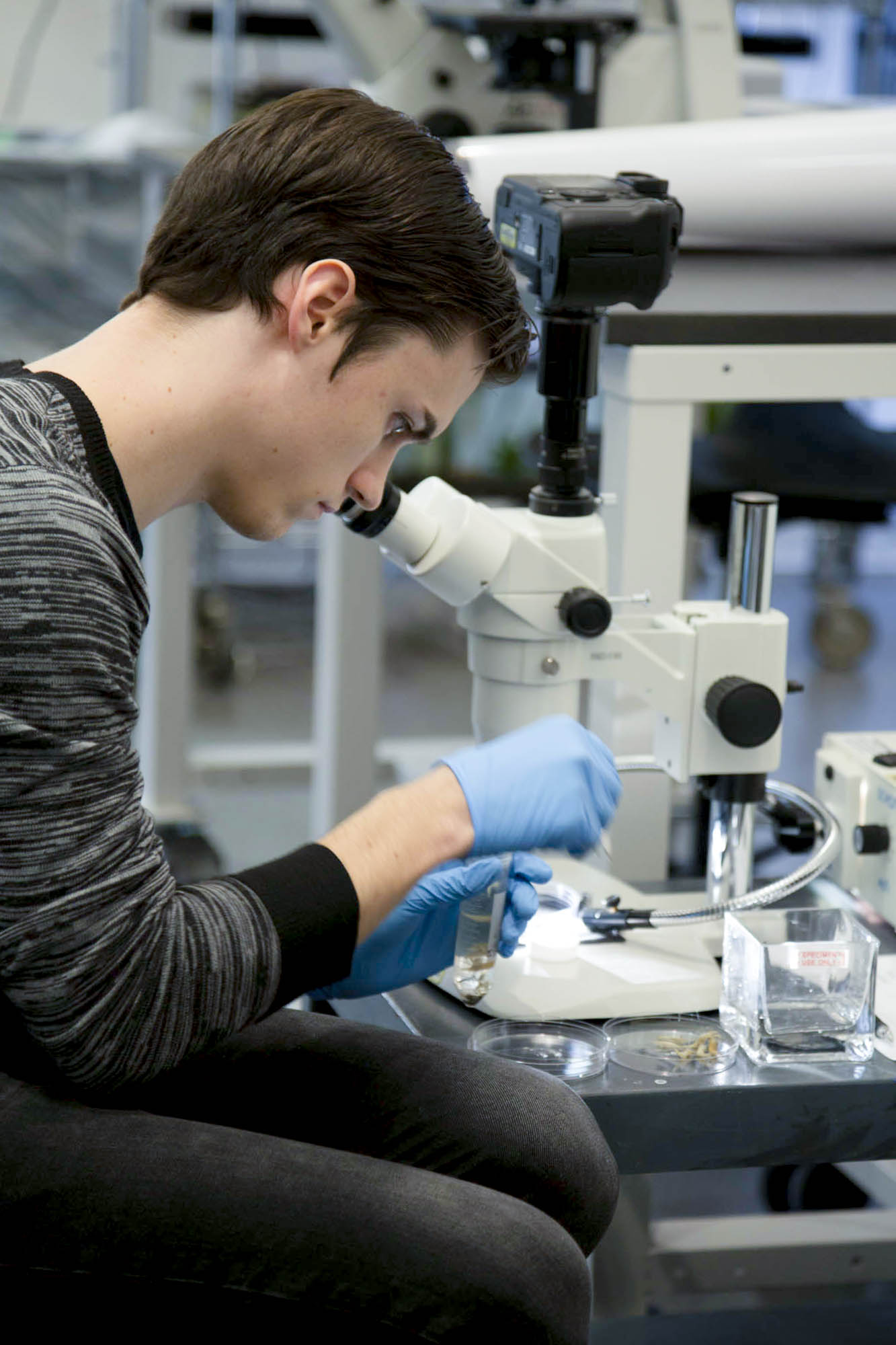 Featured Equipment
Biological Microscopes for high resolution and excellent optical performance.
Students at SVA make use of microscopes in conjunction with high-quality photography and video cameras to discover, experiment and generate new imagery. Our microscopes meet the rugged demands of an artist as well as the precision of a laboratory tool.
Bio Art Equipment
Collections
Plant Collection
Including foliage, carnivorous plants, moss, grafted cacti and plant tissue culture
Preserved Specimen Collection
Cleared and stained specimens, taxidermy, assorted specimens in resin
Skull Collection
3 full-scale resin human skeletons, ape skeleton. Authentic dog skeleton
Aquariums: Freshwater
2 Freshwater tanks with aquatic plants and tropical fish native to the Amazon and Congo
3 Saltwater tanks with starfish, soft and hard coral, sea snails, crabs, urchins, skate eggs, anemones, feather dusters, etc.
1 Vivarium with plants, guppies and a fire belly toad
Microscopes
4x Proscope HR
Bodelin PS-HR-50x Digital Proscope W/50X Lens
2x Proscope Mobile
Bodelin
4x Advanced Upright/Compound Microscope
Motic BA310 Biological Microscope
Inverted Microscope
Motic AE2000
6x Stereo/Dissecting Microscope
Motic SMZ168 Stereo Zoom Microscope
Wide-Field Epi-Fluorescent Microscope
Amscope FM690TC
Imaging
Canon EOS 5DSR Camera
Canon EOS 5D Mark III Camera
3 Canon EOS 5D Mark II Cameras
Canon EOS 6D Camera
5 Porta-Trace Light-Boxes
16 Watt, Model #1012; Gagne, Inc.
4x Time Lapse Camera 8.0
Wingscapes 8.0
Incubation & Mixing
3x Incubators
Quincy Lab General Purpose Incubator, Model 12-140
Vortex Mixer
Edvotek Tornado Vortexer 5023
Magnetic Stirrer Hotplate
Corning 5x7inch PC-420D
Shaking Incubator
Benchmark Incu-Shaker Mini
Centrifuge 2mL
Eppendorf F-45-12-11
Centrifuge 15mL
Champion E-33
Digital Heatblock
VWR Scientific
Thermalcycler
Edvotek EdvoCycler 541
Temp. Controlled 6-Liter Water Bath
Bio-Rad Temp. Controlled Water Bath
DNA Quantitator
Invitrogen Qubit 2.0 Fluorometer 2.0
Molecular Cuisine
Equipment
Molecular Cuisine Kits
Blender/Hand-Blender
Hotplates
Refrigerator
Grow Supplies/Humidifiers
Ultrasonic Humidifier 
SPD
Warm Mist Humidifier
Vicks Warm Mist Humidifer
Mist Humidifier 
SPD SU-4010
Air Purifier
Dayton
Large variety of growlights, humidifiers, and planting materials
Measuring
Spectrophotometer
UV/VIS Metash UV 5500PC
Temperature data logger
Lascar El-USB-1
Hand-held pH meter
RS 232 Meter
Triple-Beam Scale
OHAUS 610gram capacity Triple-Beam Scale
Temperature controlled water bath
Bio-Rad 166-0504
Digital Tare-Scale
Carolina, 300gram capacity, Model=SLB301-US
Digital Kitchen Scale
Eat-Smart Precision Pro
M-prove Digital Scale
Sartorius M-Prove
Sterilization
PCR Clean Hood Workstation
AirClean Systems AC600

Flow Hood w/ hepafilter
Laminar Series I Flow Hood
Infrared Micro-sterilizer
Benchmark B1000 BactiZapper
Benchtop Autoclave sterilizer
Tuttnauer 1730MKV
Large Autoclave sterilizer
Tuttnauer 3850 M-B/L
Chemical FumeHood
Labconco Protector Laboratory Hood
RODI Water purification system
Spectrapure CSPDI-60
Other Equipment
3D Bio Printer
BioBots v2 Beta Printer
Air Compressor
Alifornia Airtools
2x Automatic Pipettes
PipetmanKits (P20, P200, P1000)
Trans-Illuminator, Non-UV Lightbox for preparative applications→ DNA Capturing
Technology EmbiTec PrepOne Sapphire
Gel-electro-phoresis system
Evotek 509 EVT300
Laminator
Scotch TL901, 1210019251
Dremel
Model 200
Hand-held pH/mV/Temp/RS 232 Meter
Eutech Instruments Oakton
Digital Min/Max Hygro-Thermometer
Sunleaves Min/Max Hygro-Thermometer
Microwave
Panasonic
Flower press / Preservation technique equipment
---
Back to top