Ancestral Echoes: A Decade of Bio Art
Exhibition
Ancestral Echoes: A Decade of Bio Art
Artists
Carolyn Angleton, Suzanne Anker, Caro Arevalo, Reid Arowood, Heather Barnett, Clare Benson, Oron Catts & Ionat Zurr, Crystal Wai Man Chan, Nicole Condon-Shih, Tori Deetz, Nick Delcastillo, Heather Dewey-Hagborg, Scarlet Ding, Emma Fasciolo, Hannah Fitzgerald, Pablo Garcia Lopez, Heide Hatry, Kathy High, Rae Hsu, Yihe Huang, Priscilla Jeong, Lea Kannar-Lichtenberger, Francois-Joseph Lapointe, Shirley Li, Jessica Maffia, Steph Mantis, Sabrina Merayo Nunez, Tarah Rhoda, Joana Ricou, Henry Sanchez, Kun Kyung Sok, Ernesto Solana, Orkan Telhan, Paul Vanouse, Natalie Waldburger, Darya Warner, Jennifer Willet, Chong Xu, Grace Zhang, and Sining Zhu among others.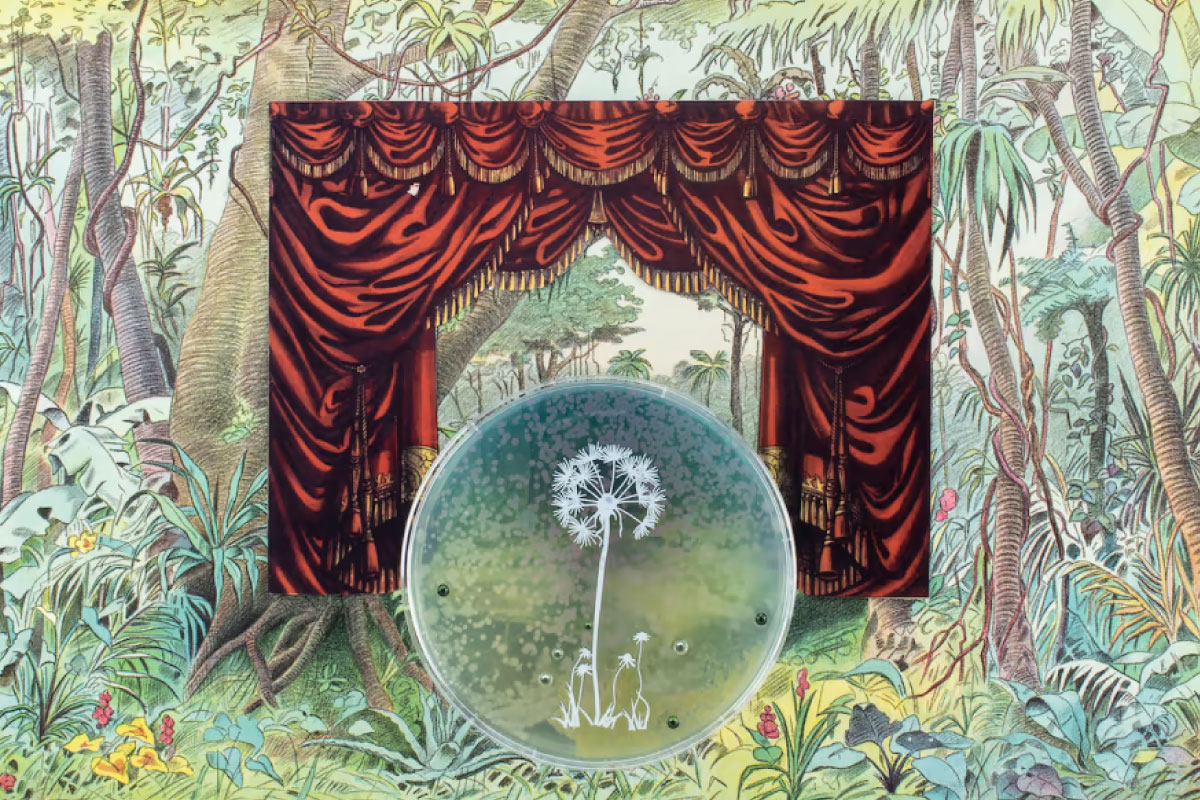 School of Visual Arts (SVA) presents "Ancestral Echoes: A Decade of Bio Art," an exhibition of work by BFA Fine Arts students, alumni and visiting artists, curated by department chair Suzanne Anker and alumna and Bio Art Laboratory Manager Tarah Rhoda. The exhibition will be on view Tuesday, May 10, through Saturday, May 28, at the SVA Gramercy Gallery, 209 East 23rd Street, New York City.
"Ancestral Echoes: A Decade of Bio Art" is a ten-year survey of artworks commemorating the inauguration of SVA's Bio Art Laboratory, one of the first of its kind in a Fine Arts Department in the United States. In this unique laboratory artists work with the tools of science to make art. Ranging from faux leather made from bacteria to microscopic images revealing the unseen, issues concerning climate change and sustainability are the focus of this practice. This exhibition brings together the work of current students, alumni and visiting artists engaged with these processes and concepts. Drawing on both experimental media and new technologies, artists since the 1980's have turned their attention to working with biologically related concepts and materials. Whereas traditional art practices turn their attention to aesthetic attributes of color, line and form, Bio Art expands such considerations to engage with the philosophical concerns of altering nature, both environmentally and in scientific laboratories.
"Myotomato", a group project produced by SVA students and its consultants in 2016, for the competition Bio Design Challenge, created a speculative protein rich tomato which could deliver nutrients to humans without the need for consuming meat. This project, presented at the Museum of Modern Art in New York City, received an award and has traveled to numerous exhibition sites. Other work in the exhibition includes an array of work by the pioneers of Bio Art including Oron Catts and Ionat Zurr, Paul Vanouse and Jennifer Willet among others. Alumni include Steph Mantis, who appears in a commercial for B&H Photo, and Carolyn Angleton who has gone on to be a speaker at many international conferences. Current students include Nick Delcastillo who has developed a technique for organic taxidermy, Chong Xu whose work combines the integration of biology with technology, and Sining Zhu who presents a fragile suit laden with human cells as they disappear from existence.