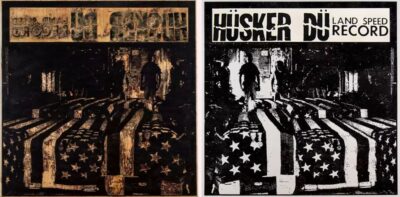 BFA Visual & Critical Studies and The Flatiron Project Space are pleased to announce an installation of large scale paper works by visual artist and BFA Fine Arts faculty member Nils Karsten (BFA 1999 Fine Arts), on exhibit from Saturday, February 27, through Tuesday, March 16, 2021. The exhibition, viewable from the sidewalk, presents a selection of images—and the woodblock itself for one of these works—based on influential albums of the late 20th century.
Nils Karsten is originally from Hamburg, Germany. He apprenticed as a cabinetmaker in Berlin before moving to New York in 1995, receiving his BFA from the School of Visual Arts (1999). In 2002 he participated in the Skowhegan Residency Program and in 2003 received his MFA from Vermont College of Fine Arts. Karsten has been a faculty member at the School of Visual Arts Fine Arts department in New York, teaching drawing and painting since 2003.
His work has been shown in galleries and museums internationally, including Pearl Lam Galleries, Hong Kong and Shanghai, China; the Pera Museum, Istanbul, Turkey; The Museum of Fine Arts, Houston, Texas; The Mint Museum, Charlotte, North Carolina; The Hunter Museum, Chattanooga, Tennessee and in New York: Marvelli Gallery, Ubu Gallery, Churner and Churner, and The Museum of Arts and Design.
His work can be found in numerous private collections and public collections, including the Brooklyn Museum, New York, The Mint Museum in Charlotte, NC, The Weatherspoon Art Museum, Greensboro, NC, and the Kuandu Museum of Fine Arts in Taipei, Taiwan. He currently lives and works in Brooklyn, NY.