La Bodega – Afro-Latino Panel Discussion
February 19, 2020 / 6:30 pm

-

8:00 pm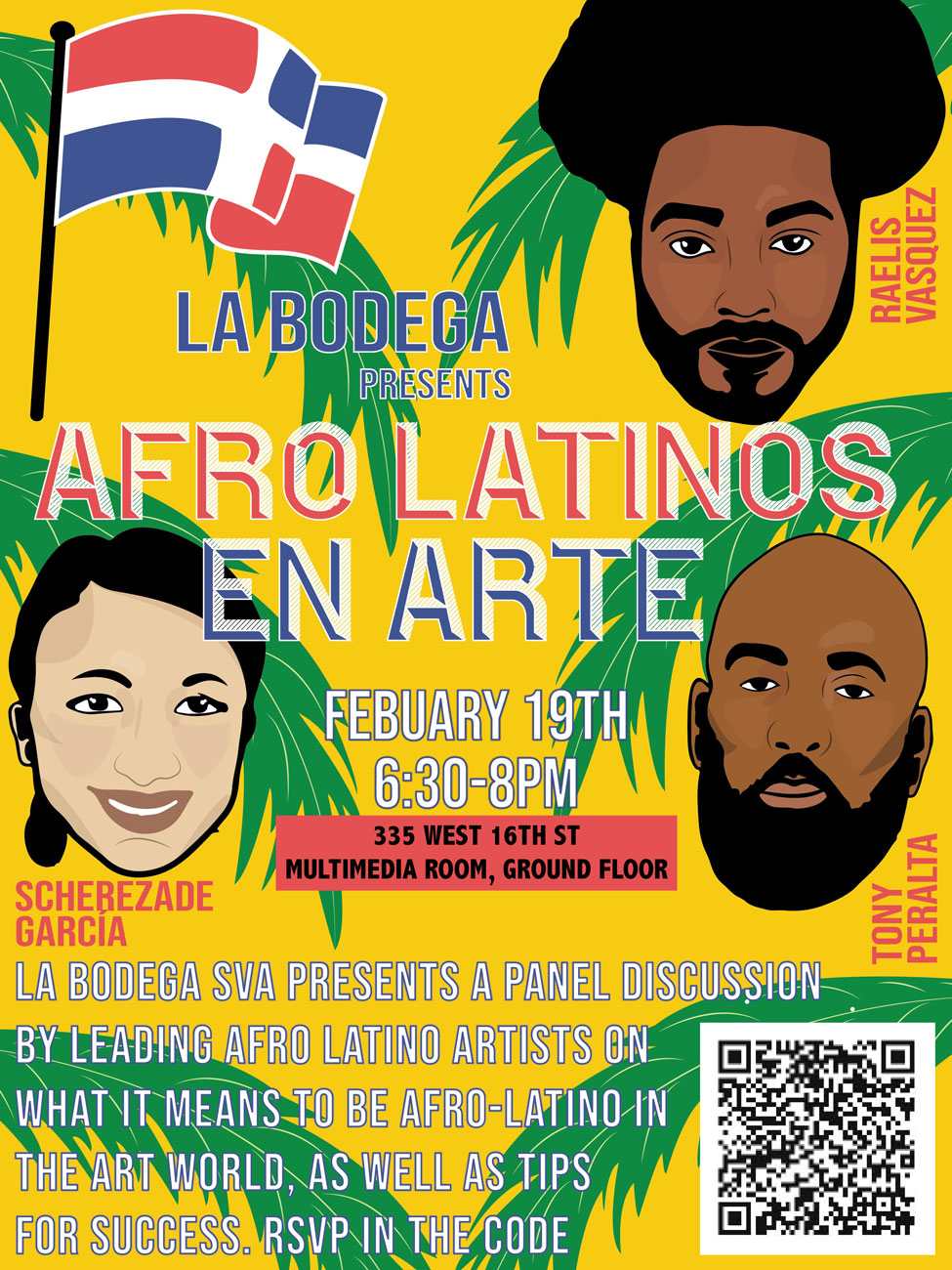 SVA Latinx Heritage group, La Bodega, hosts a panel discussion on what it means to be Afro-Latino in the art world, as well as tips for success.
BFA Fine Arts student, Bryan Fernandez, is the President of La Bodega.
RSVP is required via Eventbrite, HERE.
Seating is limited.
Date:
Wednesday, February 19th | 6:30PM – 8PM
Doors open at 6:15PM
Location:
335 West 16th St
Multimedia Room, Ground Floor
Guest Speakers are:
Tony Peralta of the Peralta Project:
Having self-described his art an "artistic sancocho" combining dominican, hip-hop, Latin American, and New York City culture, Tony Peralta has become a major figure in representing the culture of his people and experiences. Born and raised in Washington Heights, by the time the 2000s came along he had already become involved with Street wear and having already had experience with the arts throughout his youth in the heights the Peralta Project was born. From making cloths to prints and having art shows, Tony went from just being a kid from the Heights to now an artist who has work within Smithsonian Anacostia Community Museums permanent collection! Make sure to catch Tony February 19th as he discusses his journey and gives his advice on finding success.
Scherezade Garcia:
Born in el capital de la republica dominicana, Santo Domingo and now based in New York City, Scherezade Garcia has found much success critically and is even now represented by the Praxis Gallery in New York's Gallery district of Chelsea. Having always been an artist her whole life, by the time college would come around she would leave Santo Domingo to receive her BFA at the Parsons School of Design as well as receive her MFA at City College of New York. Much of her varies in media but addresses many issues such as colonization, migration, and politics all while creating work that emotes the feeling of memory and dreams. Much of her work is also in permanent collections such as the Smithsonian, el Museo de Barrio, Museo de Arte Moderno de Santo Domingo and even internationally in places such as Spain and Venezuela.
Raelis Vasquez:
Although he may be the youngest artist of the panel, Raelis Vasquez is already leaving his mark in the contemporary art world. Having moved from the Dominican Republic to New Jersey Raelis has already went on to study in places such as Italy, Chicago and currently Columbia University where he also had had his work shown throughout the United States all while being under the age 30! Much of his work comes from the narratives of being an afro-Latinx an is represented in his work that often depicts Latinos of color in their daily lives. With his approach being reminiscent of classism you realize quite quickly the Raelis Vasquez has only gotten started and is destined for so much more!
https://www.eventbrite.com/e/afro-latinos-en-arte-a-discussion-on-being-afro-latino-in-the-art-world-tickets-93202203299?ref=eios