Introduction to Bio Materials
Course Description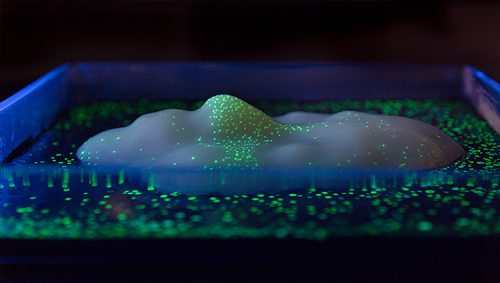 FIC-2509-A
Sundays, Jan 28 – March 4, 2018
FIC-2509-B
Sundays, Mar 25 – Apr 29, 2018
Hours: 3:00PM-6:00PM
Register online
Artists have always been inspired by nature and more recently have begun to apply
the advancements of biotechnologies into their work. In this course students will be
introduced to the field of bio art and work in SVA's state-of-the-art Bio Art Laboratory.
We will explore how to cultivate and creatively manipulate several model organisms,
such as fungi, bacteria, yeast and plants. Many of these organisms have image
rendering and mold-making capabilities that can be harnessed as new construction
materials. Students will make mycelium sculptures, grow visceral sheets of bacterial
cellulose, produce chlorophyll prints, and paint with bacteria genetically modified to
express a fluorescent protein naturally found in a bioluminescent jellyfish. We will
also explore molecular gastronomy, which employs many techniques for suspending
fluids and making liquid sculptures. No previous experience in bio art is required.
Register: http://www.sva.edu/continuing-education/fine-arts/introduction-to-bio-materials-18-cs-fic-2509-b